These days I found myself challenging my closest friends or colleagues to take a risk and create a startup. I am not a risk-averse person, but I am also not comfortable starting something without a plan or at least a goal. However, I've learned and experienced enough to be comfortable with breaking away from corporate life, where control and salaries are limited.
In the book The millionaire fastlane, I've learnt you should build what people need, which is not the same as "our passion" or what we want people to have. But no matter how strong our commitment to building something new is, we all know how hard it is to come up with something truly unique and groundbreaking. That is why I strongly agree with Rory Sutherland when he said in The Diary of CEO, "Don't make the Eurostar faster. Make the journey more enjoyable". We don't need to build something out of this world. There is a lot of money to be made in significant improvements in existing products and services.
More so, if we, as software engineers and entrepreneurs, open our minds to all those industries outside of tech. Be it in health, schools, law firms and so on. Just ask your non-tech friends about their experience with software in their workplace.
Selling challenge
As a software engineer attempting to produce software for those industries, you will likely face a significant obstacle. Without proper domain knowledge, i.e. the participants, interactions, use cases and everyday problems, you will struggle to build a valuable product. But even if you know, you will likely have a hard time selling and marketing your product. Just because you know a potential user, it doesn't mean the user will have the power for its organization to purchase your product.
Whether we like it or not, much of the software adopted in more traditional industries are bought through governmental contracts or negotiated through personal relationships at the highest level.
To tackle this challenge, most companies have multiple hierarchies of different types of sales managers dedicated to building these networks and expanding influence across various organizations and frontiers. To further incentivize sales, companies provide very high commissions for professionals to go above and beyond for a high-cost contract with a partner. For an example, see figure 1.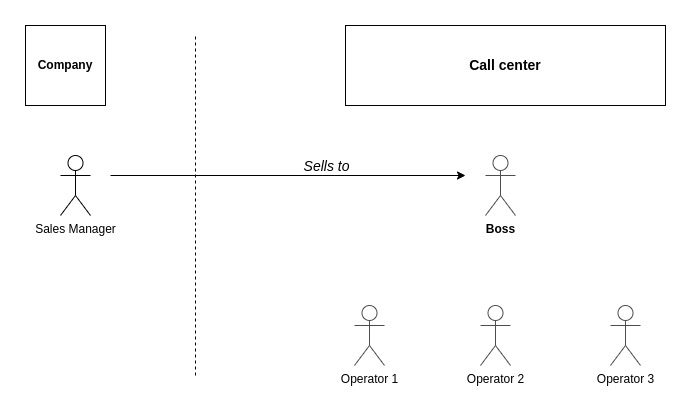 The tech industry
With the exponential rise of technology and its constant transformation, most leaders at an organization struggle to evolve and adapt in their market. Technology moves so fast that only those who know and follow it daily have a glimpse of what tools and processes are best to build software at that moment in time. In most cases, these people are software engineers.
Engineers are the creators and, in many cases, the decision-makers. Engineers know which tools can speed up the time-to-market of new products and how to make them robust in the long term. On top of it, good software engineers are in high demand, hard to find and paid above the national average. Hopefully, you see now how engineers can be very influential within organizations.
This engineer's newfound influence has created a new role within the software industry. Developer relations, or programs like Microsoft's MVP and Google's GDE, are new ways software companies use to influence this new generation's decision-makers directly. As Caroline Lewko and James Parton say in their paper "The Origin of Developer Relations and the Rise of the Developer":
"Establishing developer relations programs, which organize the activity of engaging and influencing the behaviour of developers, has been around longer than the World Wide Web. However, the recognition that developers represent a direct and significant commercial opportunity is a relatively new phenomenon."
In this new sphere of influence, trust also plays a significant role. There is a higher likelihood of a contractual agreement if the lobbying comes directly from someone within the organization, as opposed to someone external that doesn't always know the context or has the right relationship. See figure 2.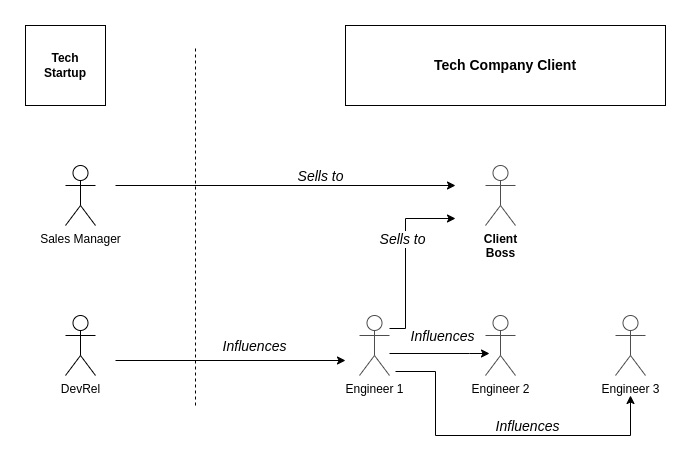 Influence is key. As an entrepreneur, you need to understand the sphere of influence and decision-making of the target users for whom you are developing a product. This influence is also why certain venture capitalists with presence and experience in specific industries can be crucial to your company's success.
Whatever you build or create, you will always need a network to sell to and the sales skills to be successful. Make sure to work on those.
Annex - Other scenarios